If you are looking for stair climbers for disabled, you are in the right place. This guide will show you how to figure out the quality stair climbing chair step by step.
And by now, you're probably looking for something that can make the life of the disabled easier. And while you might be using wheelchairs, that can only get you so far.
You see…
Traditional wheelchairs are only suitable for slopes or flat planes. You'll find many places that try their best to make themselves wheelchair-friendly. But at some point, you might come across some dreaded steps.
So, what do you do then?
Is There A Wheelchair That Can Climb Stairs?
Due to traditional wheelchairs being very limited when it comes to staircases, you've probably been wondering whether any wheelchairs can climb stairs.
And you'll be happy to know that there are many stair climbing wheelchairs out there for you to choose from!
Wheelchairs that can climb stairs are usually referred to be as personal stair climbers and can be an excellent addition to a disabled household.
They provide you and the passenger with security and confidence that you can climb a staircase without any issues.
Personal stair climbers are designed to ensure that the passenger's body position does not change while ascending or descending a staircase until it reaches its destination.
And this guarantees the passenger of the stair climber does not fall and injure themselves in the process.
What's The Difference Between A Stair Climber Vs Stairlifts?
On your search for tackling staircases with disabled people, you've probably come across two methods:
Personal Stair climbers
And stairlifts
And while you may have heard about them, you might not know too much about them. So in this section, I wanted to explain what the differences are:
Personal Stair Climber
One of the great things about having a personal stair climber is the fact they are portable, so you don't have to rely on establishments having slopes or lifts to get around/inside.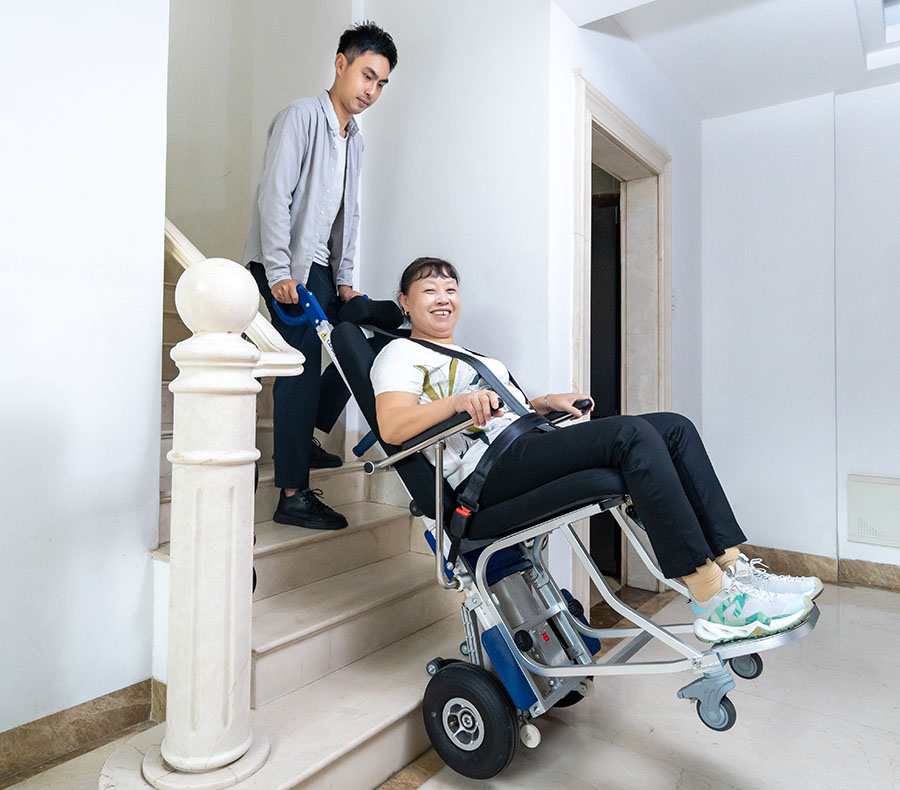 Instead, they are fitted with tracks or wheels. The main advantage is that you can use them on multiple staircases without switching the passenger to multiple stairlifts.
Not only that, but you don't have to worry about carrying the wheelchair up the stairs.
Another great thing about using a personal stair climber is you can transport them in your car, which means you don't have as many restrictions.
When it comes to cost, it does vary quite a lot depending on the type and model, but they are usually cheaper than stair lifts.
Stairlifts
Stairlifts are fixed to one point and are usually designed for the elderly to go up/down stairs without aid.
Disabled people can use them too, but it can be challenging to switch seats, so that's something to think about.
The massive downside of stairlifts is they are fixed to one point, which means you can't travel with them. And this can pose certain restrictions for disabled people traveling away from their houses.
To make it worse:
Because they are fixed to the wall of your staircase, it makes it super hard to remove once installed.
Furthermore…
When disabled people use stairlifts, they always come across the same problem. Their wheelchair has been left behind. And this means they must have multiple wheelchairs in the house to get around safely.
And finally:
Getting yourself a good-quality stairlift can be expensive; they usually cost between $7,000 to $8,000.
How To Choose The Best Stair Climber For The Disabled
One thing you need to realize about personal stair climbers for the disabled is there are many different types with dozens of features.
And this can make it extremely difficult and confusing to find the one that's going to work for you.
This is why we've created this guide for you so you can find the best solution for your situation:
Step #1: Measure Your Staircase
One of the first things you need to do before you even start looking at buying a stair climbing chair is to measure the staircases you're going to be using the most.
The last thing you want is to buy a stair climber only to find out that it doesn't fit up your staircase.
So, before looking at personal stair climbers, ensure you measure the width of the staircase and the average height of each step. Not only that, you must consider your turning space if you have multiple staircases.
In other words, the more measurements you have, the easier it will be to find the best stair climbing chair for you.
Finally, you should think about the type of staircase you have. Some stair climbers can't handle a spiral staircase.
Step #2:Check the Features
Once you've measured everything up, it's time to start looking at the features of the stair climbing chair to see if they align with what you're looking for.
So, here are a few things you should look out for:
Easy To Install
One of the first things I like to look at is how easy it is to install. The last thing you want is to spend 10 minutes trying to put the stair climber together every time you take it out of the car.
And the best way to find out if the stair climber is easy to put together is to watch videos or check out the reviews.
Adjustable
Another thing you need to think about is how adjustable the stair climber is; which is for two people:
The operator
The passenger
There's going to be a time when it's going to be a different operator using the stair climber. And this means you need to be able to adjust it to that person so they can safely transport the person in need.
You also need to make sure you can adjust things like the headrest for the passengers using the stair climbing chair.
Safe To Use
One of the main concerns when using a personal stair climber should be the safety of the operator and passenger.
And this is why you should be looking for a stair climber with a braking system and seat belts to ensure both parties are safe.
Maximum Weight Load
Always check out the maximum load the stair climber can handle. It can vary quite a lot depending on the manufacturer and model. To stay safe:
It's best to look for a stair climber that can easily handle the person's weight.
Battery
The last thing we like to look at is the battery because it's what powers the stair climber. Check out how long the battery lasts, how long it takes to recharge, and if you can take it out of the stair climber to charge somewhere else.
The lithium battery is usually better than the lead acid battery since its is more light-weighted and long-lasting compared to the lead acid battery.
3. Think About Your Needs
Depending on what your needs will determine what type of stair climber you should be looking at. Some stair climbers come with an integrated seat, while others have an attachment to fit wheelchairs on safely.
The stair climbers with an integrated seat are aimed at elderly or disabled people that are going out with someone. They have an extremely compact design and can navigate narrow staircases with ease.
A stair climber with a wheelchair attachment tends to be harder to travel with and is only suitable for disabled people in a wheelchair.
4. Take A Look At The Price
The final thing you need to take a look at is the price of a personal stair climber. You have to remember:
There are many different types and models of personal stair climbers out there. But not all of them are going to be in your budget.
So, you always need to choose a budget and try to find the stair climber that fits that budget while still supplying the features you need.
Our Top Pick – The Best Stair Climbing Wheelchair
So when it comes to your decision, you're probably wondering which is the best stair climbing wheelchair.
I want to introduce you to the XSTO stair-climbing wheelchair TR140C.
Fina Thoughts
A personal stair climber can be a fantastic addition to a disabled household or workplace. Not only that, but it helps to reduce the restrictions put on disabled people by allowing them to go wherever they want.
If there's one thing you should take away from this guide, it's to do your research before buying a stair climber.
Think about where you will be using it, where you will be using it, and what you need it for. If you can figure out these things, it will be easier to match the features to your needs.