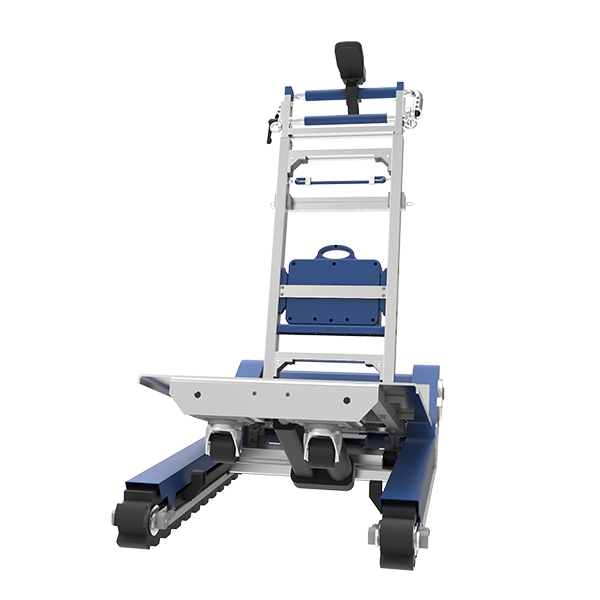 XSTO heavy duty stair climbing dolly CT420 is with a capacity of up to 420 KG, it allows you to transport cargo upstairs and downstairs by a single person. It can easily keep balance when climbing by automatically adjusting the cargo's gravity center, and it can also move easily on the flat ground with its flat ground mode, which makes moving safer and easier. It is suitable for transport precision instruments, vending machines, pianos, big safes, gas cylinders, building materials, engines, security check machines, etc.
Suitable for moving heavy and expensive commercial equipment, such as vending machines, photocopiers.
The durable independent non-marking and non-slipping crawler track.
Protect the motor and controller inside.
There are speed button and direction button on the vertical beam
With automatic angle adjust on stairs
The universal wheels can help you manoeuvre in stairs corner or on flat surface.
You can control the moving direction and the tilt angle of the loading board with the joystick.
With the armrest, it is an auxiliary handler to ensure the saftey when it arrived the last staircase.
The strap fixed beam can float up and down
Play & Plug With Auto Connection, Independent Switch, Display Battery Level and Voltage
| | |
| --- | --- |
| | |
| | |
| | |
| | |
| | |
| | |
| | |
| | |
| | Height<21CM, Width>25CM,  Tilt Angle ≤37° |
| | |
Contact A Sales Representative
For any questions or inquiries about this item, please feel free to contact us a reply in about 24 hours!
Your Privacy Will be 100% Safe With Us!