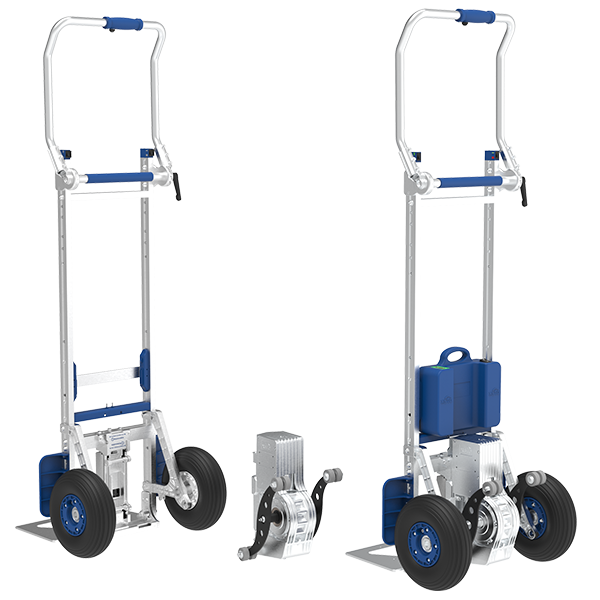 Model No: XSTO US210E/US210G
XSTO US210E is a removable powered stair climber hand truck which can be used as a hand truck and a powered stair climber. When you use it as a hand truck, the executive unit and battery pack will removed, it is helpful for moving on flat ground. When you install the executive unit and the battery pack on the hand truck, then you can use as a stair climbing hand truck, it saves your labor force when moving up / down stairs.
With a loading capacity of 210KG, this multi-purpose powered stair climber is a versatile material handling tool.
Dryers
Furniture 
White Appliance
Office Equipment
Construction Materials
Electronic Equipment
Oil Drum
Point touch design, easy to operate.
Play and plug with auto connection, independent switch, display battery level and voltage. .
Edge stopping brakes are available. Anti-skidding and safer.
Flexible rubber tires. Flexible steering.
05 Upper and Lower Limit Clips
For removal and installation of the drive system
Protect upper and lower limit clips.
Foldable aluminium alloy armrest. Can spin in 360 degree. adjust angle on demand. 
08 Up/Down Switch / Speed Switch
Up/down & Fast/slow switch. 
09 Self-Developed Drive System Assembly
Self developed, rugged and impact resistant shell, IP54 protection level, dustproof, waterproof, anti-electromagnetic interference.
10 Small Protective Cover
Protect the line interface.
Foldable to save storage space.
Drive System SE210 Assembly
01 Support Arms and Climbing Casters
| | | |
| --- | --- | --- |
| Product Weight (Stair Climber Mode) | | |
| Product Weight (Hand Truck Mode) | | |
| | | |
| Climbing Speed (Low Speed) | | |
| Climbing Speed (High Speed) | | |
| Battery Capacity (Floors) | | |
| | | |
| | | |
| | | |
| | | |
Contact A Sales Representative
For any questions or inquiries about this item, please feel free to contact us a reply in about 24 hours!
Your Privacy Will be 100% Safe With Us!